Don't forget tacky holiday Christmas jewelry and accessories to go with your ugly Christmas sweater outfit.  This is a fun assortment of jewelry items that will go great with your ugly sweater.  Sometimes you can even match the theme, such as cats, snowmen, or Christmas trees.  We have necklaces, earrings, and bracelets with some being matching sets.
Tacky holiday Christmas jewelry is just what you need to put the finishing touch on your outfit.  Some of the jewelry pieces even light up and flash.  Strings of Christmas lights, jingle bells, and candy canes all contribute to the holiday fun.  On this page you will find all manner of fun, wacky, and even pretty holiday jewelry.  If you scroll down you'll find a wonderful assortment of handmade and vintage Christmas earrings from Etsy.  They will go really well with ugly sweaters.
Tacky Holiday Christmas Jewelry
Tacky holiday Christmas jewelry would make a cute hostess gift or it would be fun party favors or door prizes at an ugly Christmas sweater party.  This is probably the only time of the year you can get away with such tacky looking but fun jewelry.  Take advantage of it!
Christmas Bow Earrings
Fancy Ornament Earrings
Jingle Bell Earrings
Candy Cane Earrings
&
Cute Tacky Holiday Christmas Necklaces
Colorful and novelty necklaces to go with your Ugly Christmas Sweaters.  The light up string of Christmas bulbs is almost a classic as are the jingle bells.
Christmas Ornament Necklace
LED Christmas Bulb Necklace
Christmas Jingle Bells Necklace
Christmas Bubbegum Necklace
Tacky Christmas Headbands
Aren't these headbands fun? They will be perfect to go with your ugly sweater.  How often do you get a chance to wear a tiara like this?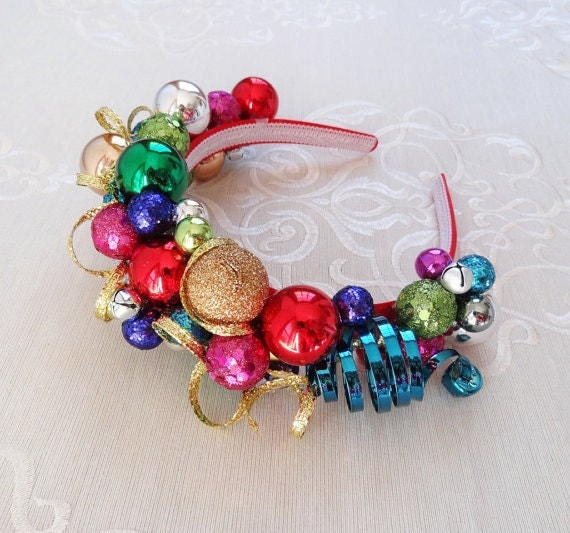 Tacky Jewelry Headband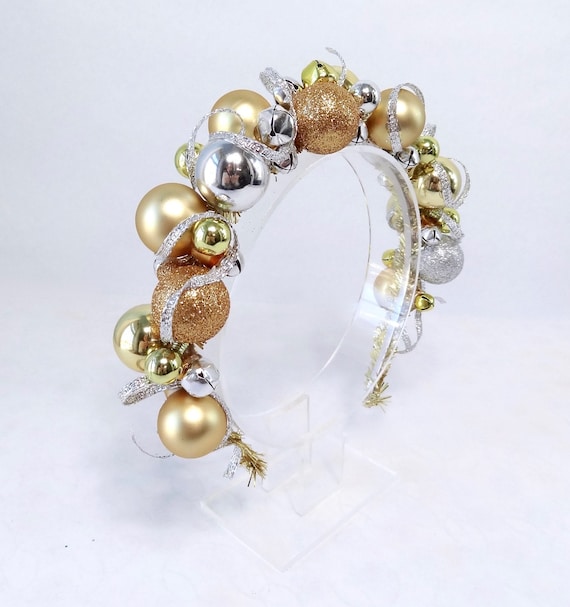 Tacky Silver Gold Headband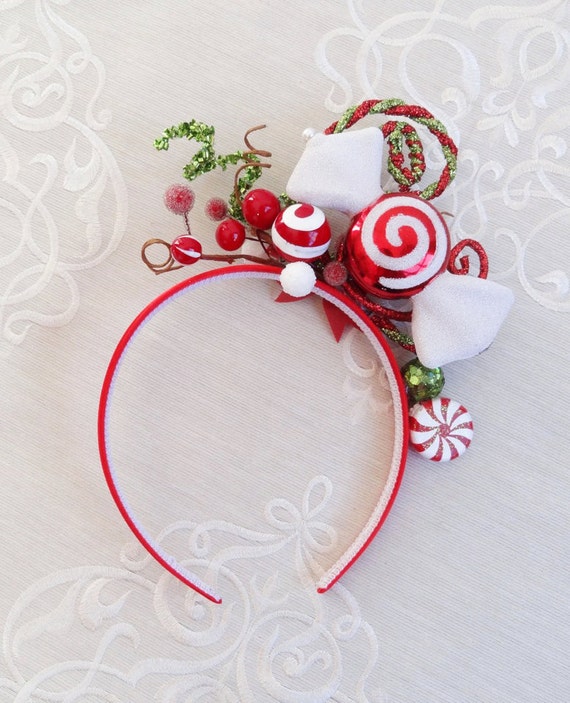 Red Christmas Headband,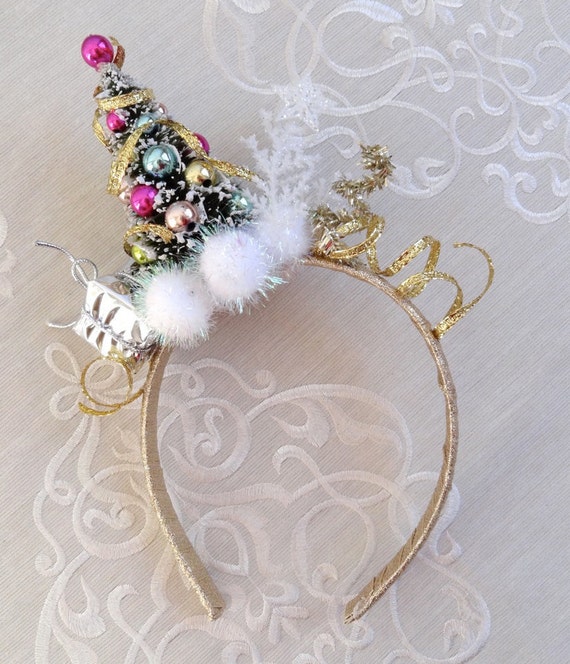 Christmas Tree Headband

&
Simply Beautiful Pendant Necklaces
Beautiful pendant style necklaces that are simpler and would go well with the busyness of an Ugly Christmas Sweater.
 Ruby Heart Necklace with Bow Swarovski
 Aqua Snowflake Necklace B
 Deep Blue Green Heart
 Crystal Guardian Angel Wings Necklace
Ugly Christmas Sweater Bracelets
The chunky style of Christmas charm bracelets seems to blend well with Ugly Christmas Sweaters.  Charm bracelets can be just as tacky as the sweaters or they can be elegant like the Pandora one.  If you like charm bracelets or chunky bracelets these will be just the thing to go with your ugly sweater.  You might also choose to wear a plain shirt or sweater and accessorize with tacky holiday Christmas jewelry.  These lovely bracelets would go well with Vintage Tacky Ugly Christmas Sweaters.  They are a throwback, just like the vintage Christmas sweaters.
Lova Jewelry Bracelet
Christmas Bracelet Pandora Style
Christmas Jingle Bells Charm Bracelet
Bracelet With Bells
Bracelets To Go With Your Ugly Christmas Sweater
Here are some bracelets of a simpler design. Yes, we're doing tacky but we don't want your jewelry competing too much with your ugly sweater. If your sweater is very busy, one of these bracelets would be perfect!
 Holiday Bracelet Set
 Christman Infinity Bracelet
 Flashing Holiday Bracelet
 Jingle Bell Bracelets
Crazy Christmas Earrings
Grab some earrings to go with your Ugly Christmas Sweater outfit.  Earrings can be the finishing touch.  Most of this jewelry is fairly inexpensive so you can indulge without guilt.  If you have the kind of job where you can wear it to work, this would be fun jewelry for that purpose.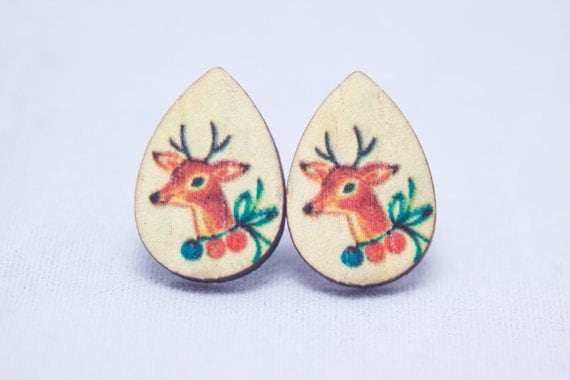 Vintage Inspired Christmas Reindeer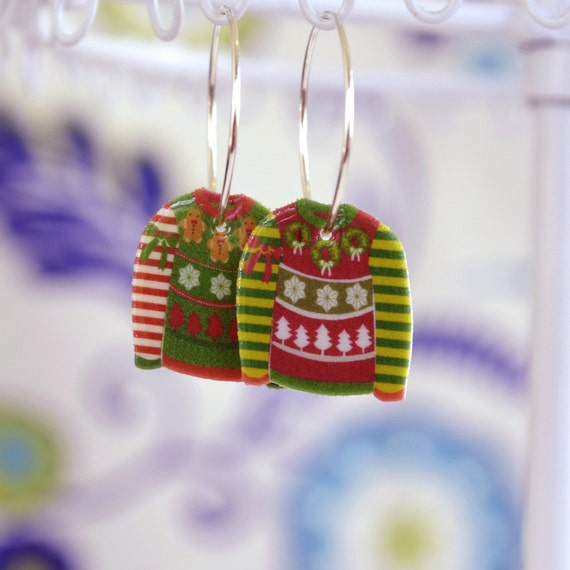 Ugly Christmas Sweater Earrings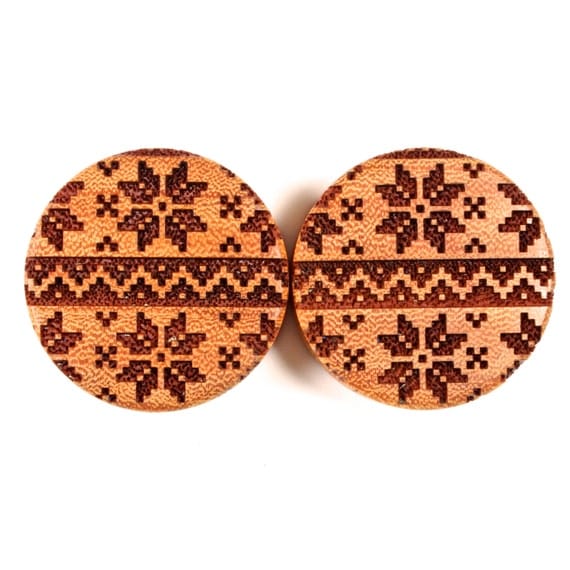 Christmas Sweater Osage Orange plugs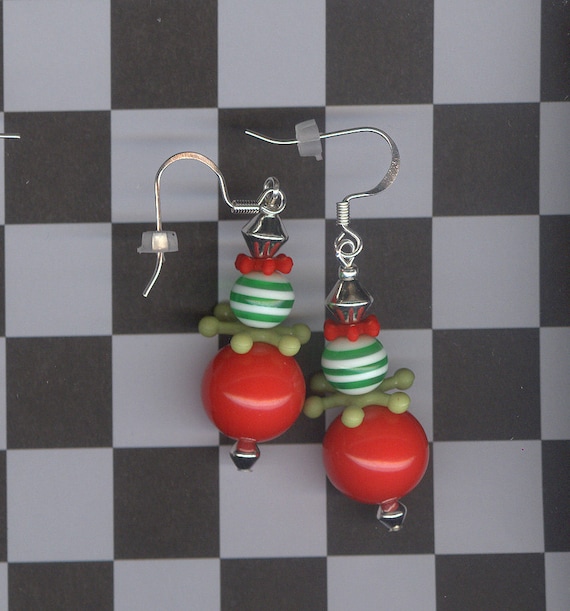 Funky Chunky Big Red Christmas earrings

Save
Save
Save
Save
Save
Save
Save
(Visited 1,190 times, 1 visits today)