Tacky and ugly Christmas sweaters are so in vogue right now for fun holiday celebrations. However, sometimes you can take the spirit of the Christmas sweater back to its roots, then create something beautiful from it. When searching for items related to Christmas sweaters, these handmade Mason jar not so Ugly Christmas Sweater candles came up. Many people love to light candles during Christmas as well as other holidays or special evening throughout the year.
LITdecor is the creation of artist Vanessa Cline who tints all of her Mason jars and hand paints each one. As you browse down this page, you will see not only Christmas sweater patterns (in the first section), but also many other gift items that you can buy for yourself or pass along to friends and family for Christmas gifts.
Since these candles, lanterns, vases and votive holders are handmade, it makes sense that the more ornate they are, the more they cost. Vanessa spends many hours tinting and painting delicate patterns on the glass jars, one by one. If your budget is tight this year, and you love these candles, buying just one is possible. Most of the single lanterns and vases are at the bottom of this page. You can also find sets of three of several of these gifts, and split up sets to give as gifts to save money. Otherwise, just scroll down and click through any of these incredible designs to learn more about it. These items are made in the U.S., but do have a 2 to 3 week lead time because they are made by hand. Allow this time for your holiday or event deliveries.
Stunning Christmas Sweater Mason Jar Candles
This set of Mason jar candles and votive holders are patterned after Christmas sweaters. They are beautiful with or without a candle burning inside. You can ask for a custom order if you have an idea for Vanessa. These make lovely centerpieces and decor for a party, wedding or New Year's Eve.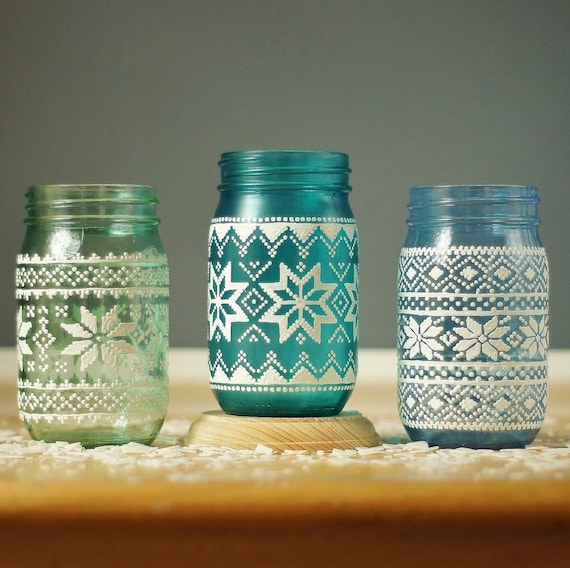 Christmas Sweater Mason Jars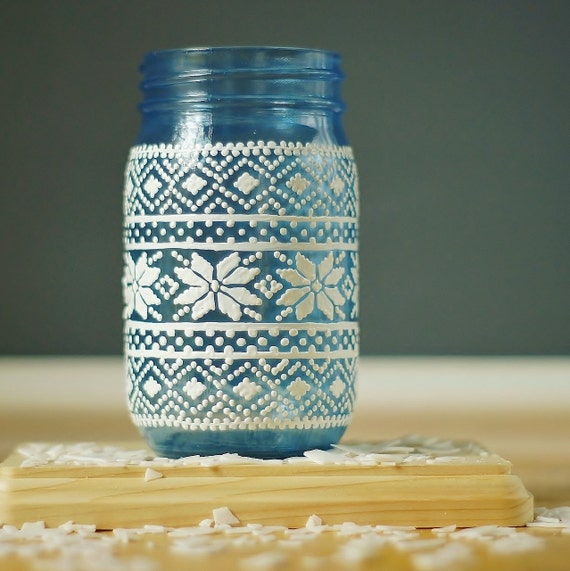 Holiday Mason Jar Lantern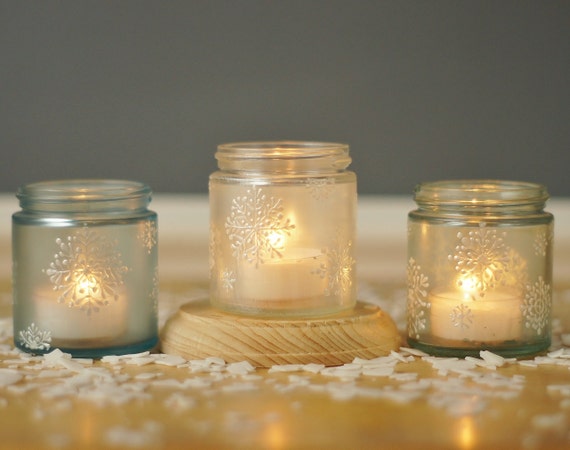 Holiday Mason Jar Votives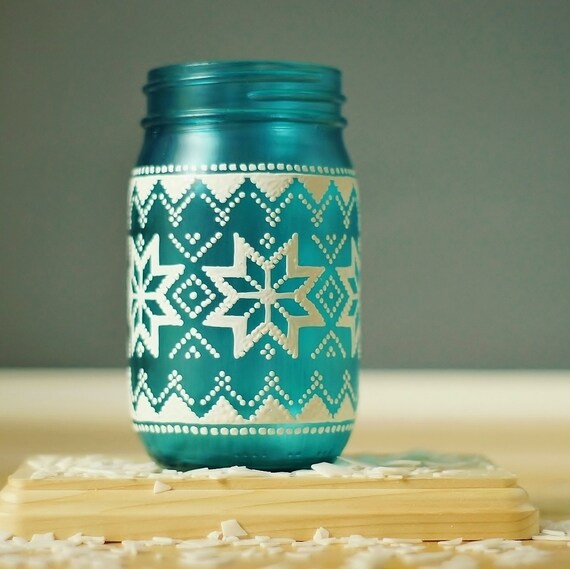 Christmas Sweater Mason Jar Lantern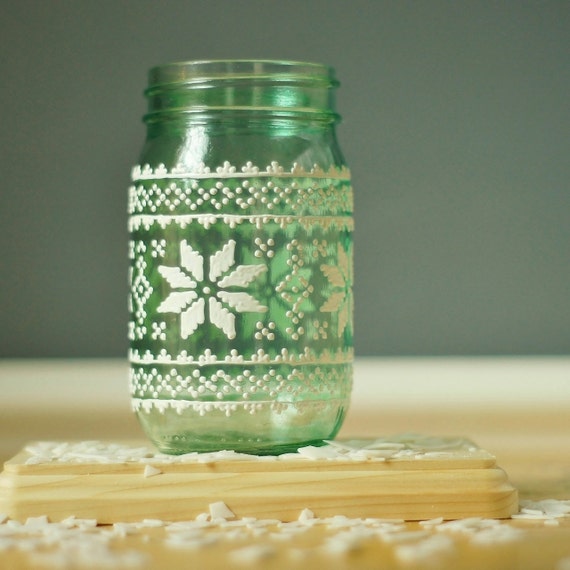 Mason Jar With Christmas Sweater Design

Mason Jar Candle Gift Sets
Here you can get an idea of some of the variety of patterned gift sets that you can order for Christmas. Click through for more variations on these themes.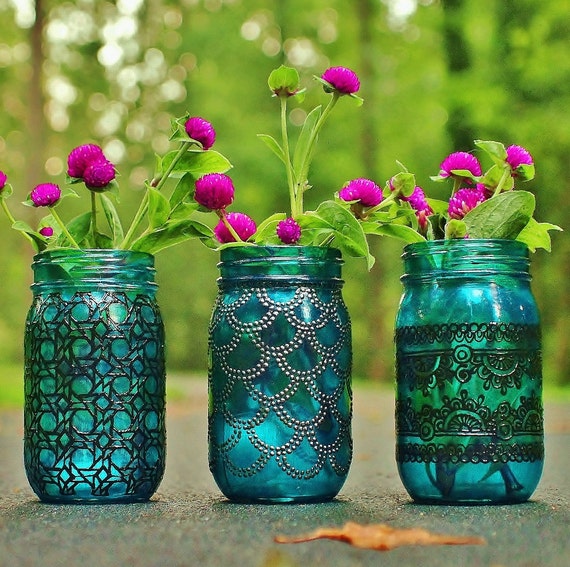 Trio of Mason Jar Lanterns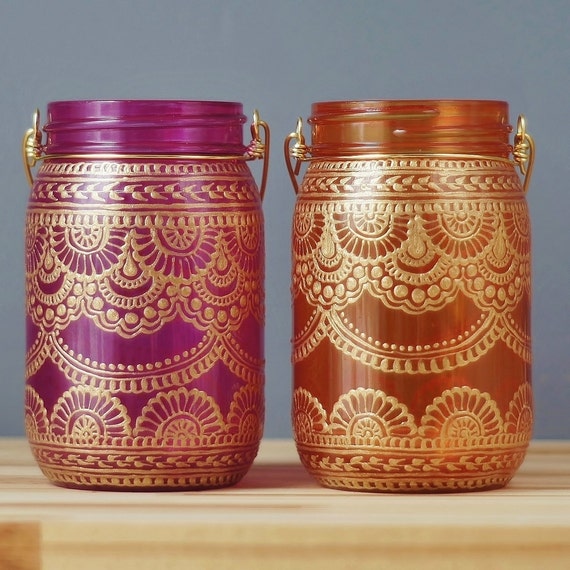 Hand Painted Mason Jar Duo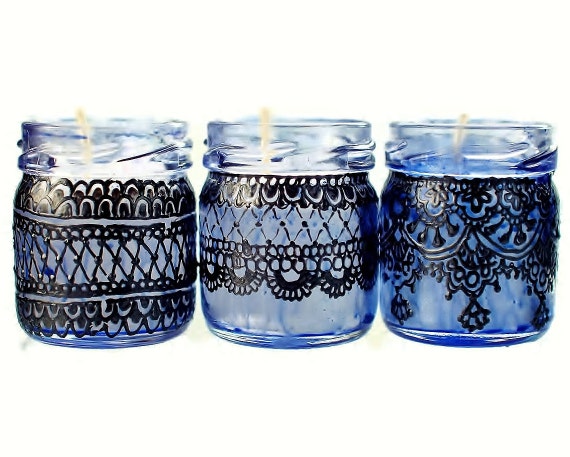 Moroccan Inspired Mini Jar Candles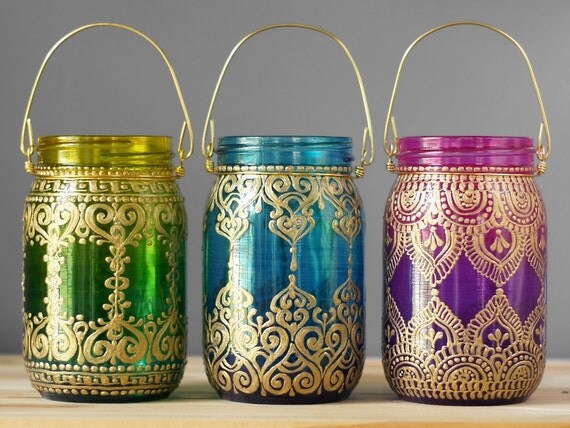 Bohemian Hanging Lantern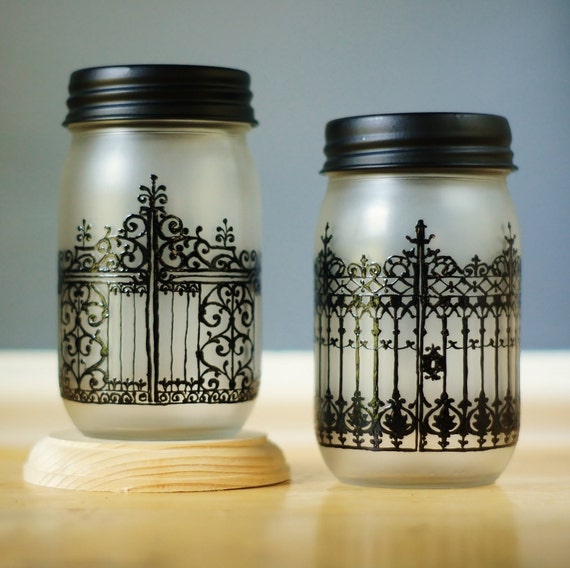 Wrought Iron Gates of Charleston SC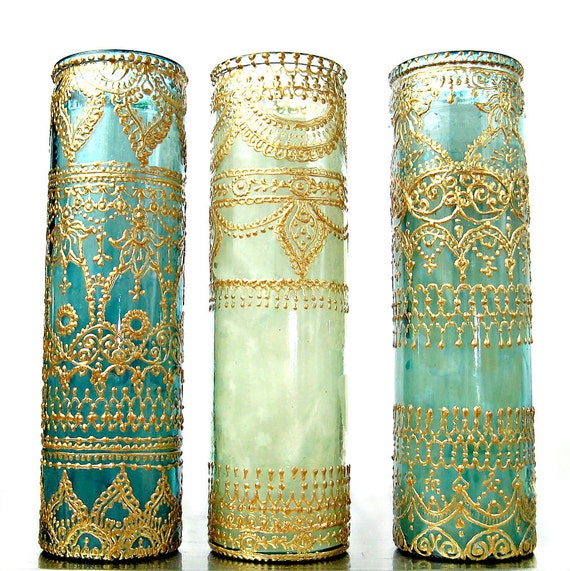 Aromatherapy Container Candles

Decorative Mason Jar Gifts
Vases, lanterns and containers made from Mason jars or other glass containers. Simply gorgeous work.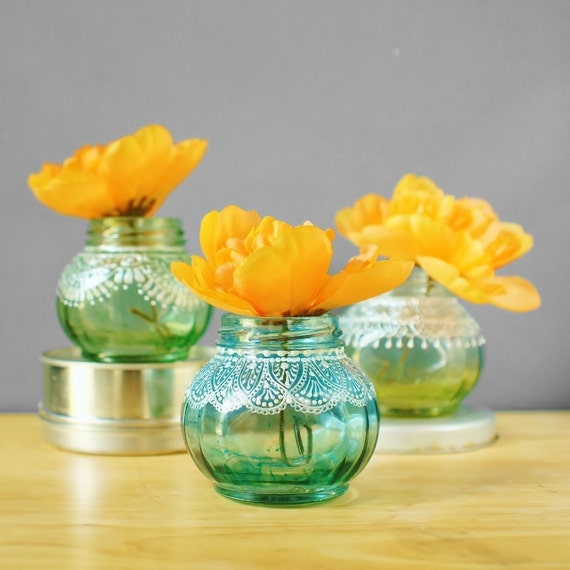 Round Jar Bud Vases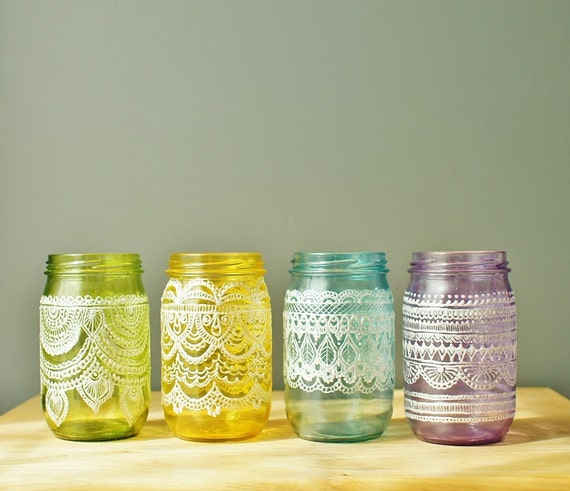 Festive Spring Mason Jars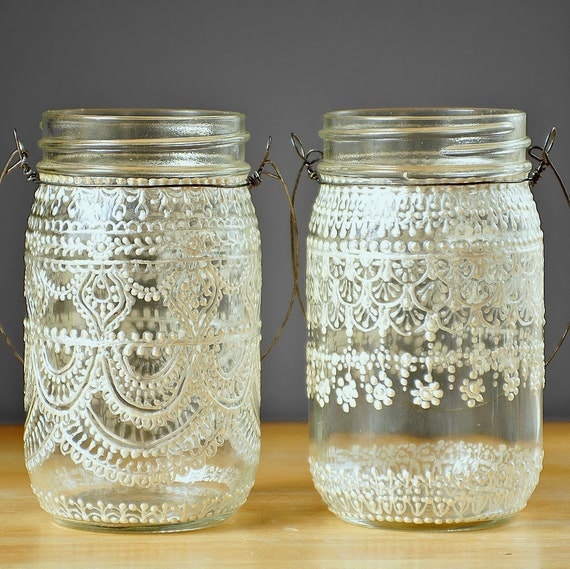 Bohemian Hanging Lanterns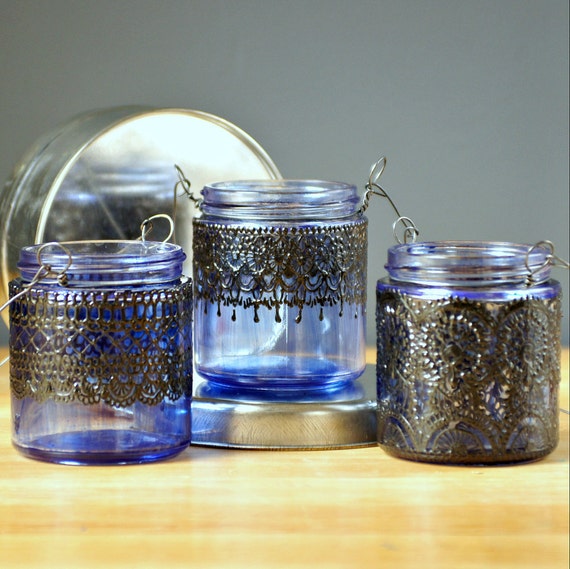 Small Hanging Candle Holder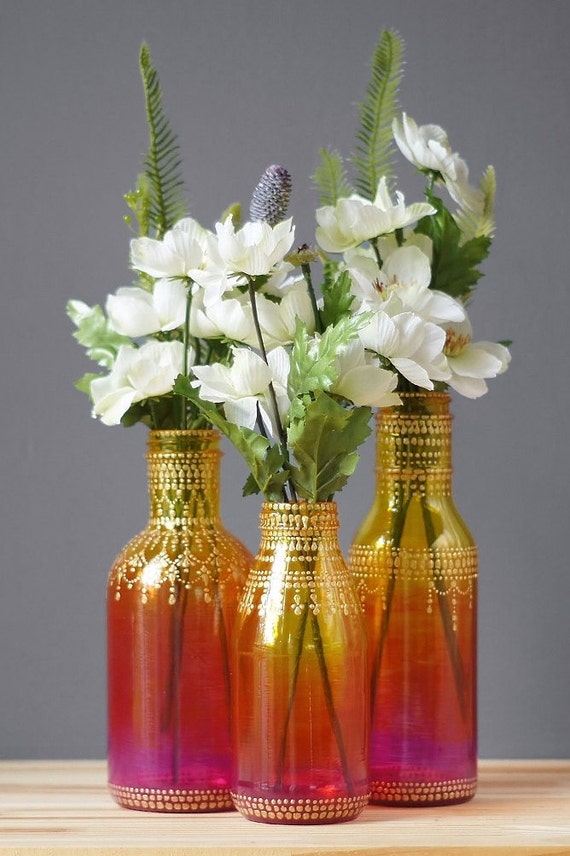 Ombre Painted Flower Bud Vases

Hand Painted Glass Holiday Gifts
These gifts are quite affordable. The lowest priced items are the plain tinted single jar lanterns, but most of the items in this section are available as single items. You can get a very good idea of what types of lanterns and vases are available from this section. And there are few that stand out such as the wine glasses and the beach glass trio of vases. Enjoy browsing.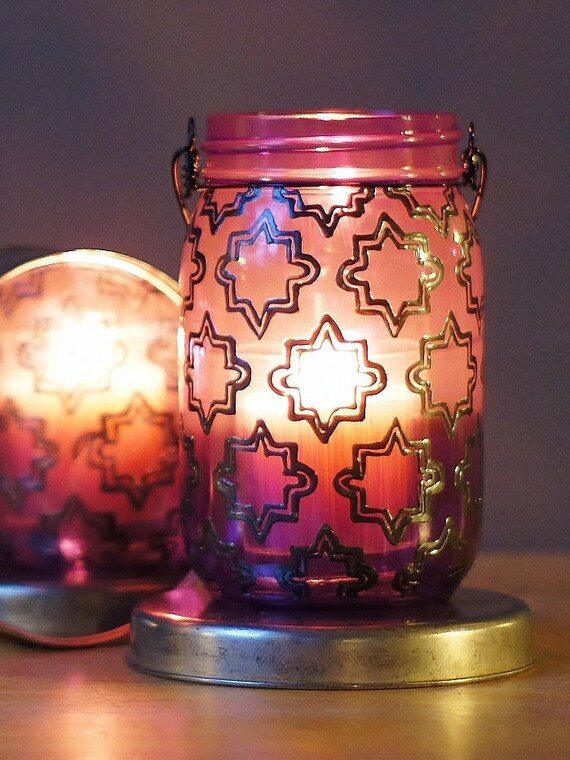 Eclectic Boho Home Decor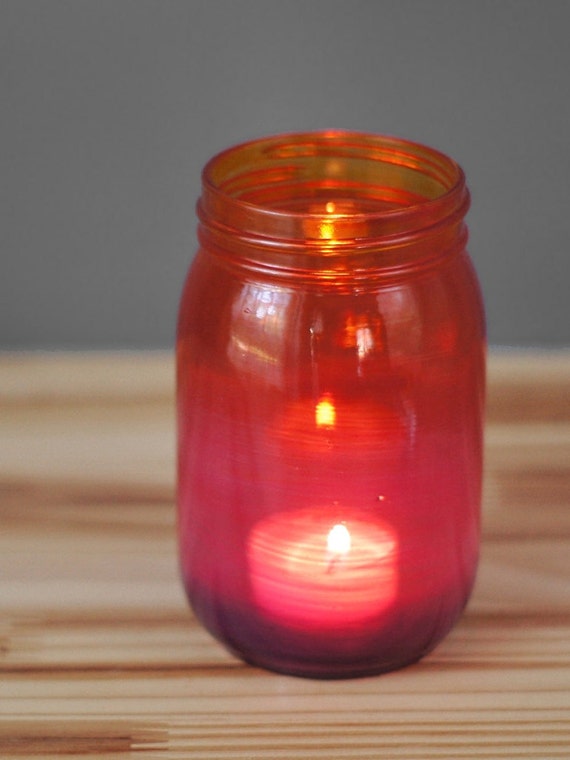 Eclectic Decor Mason Jar Lantern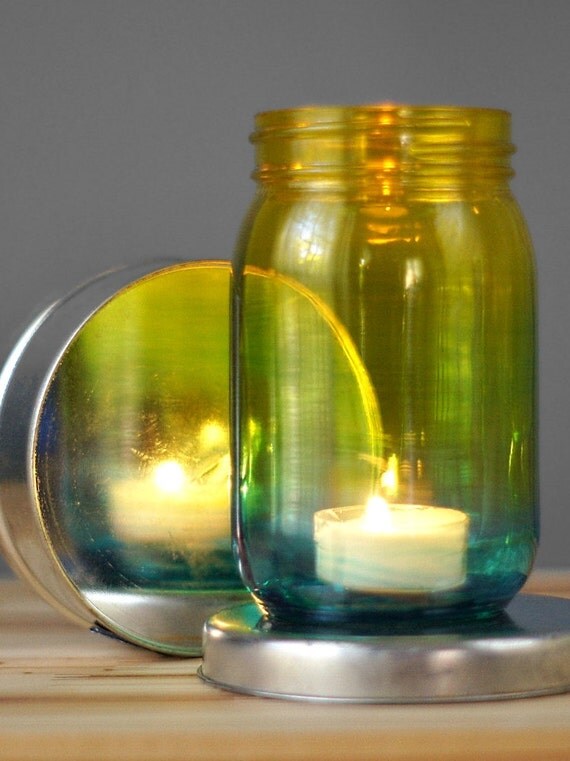 Ombre Tinted Mason Jar Lantern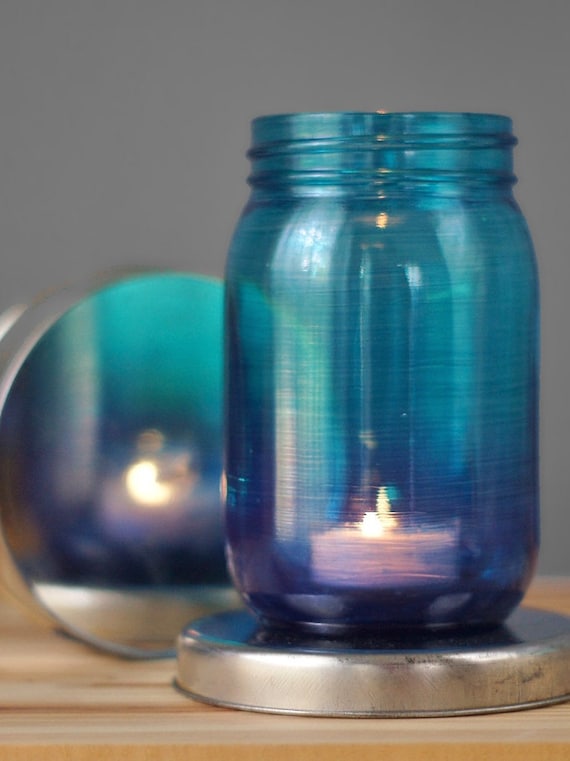 Mason Jar Candle Holder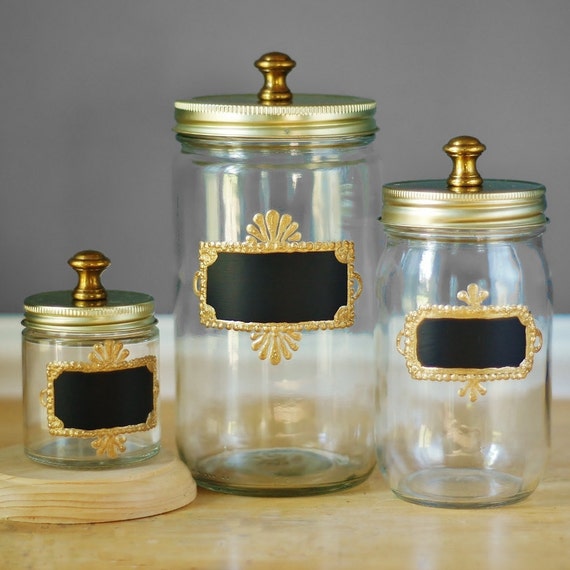 Three Mason Jar Storage Canisters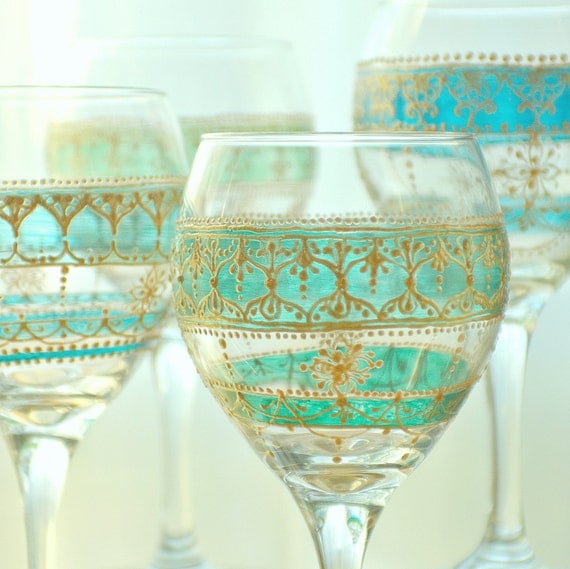 Moroccan Inspired Wine Glasses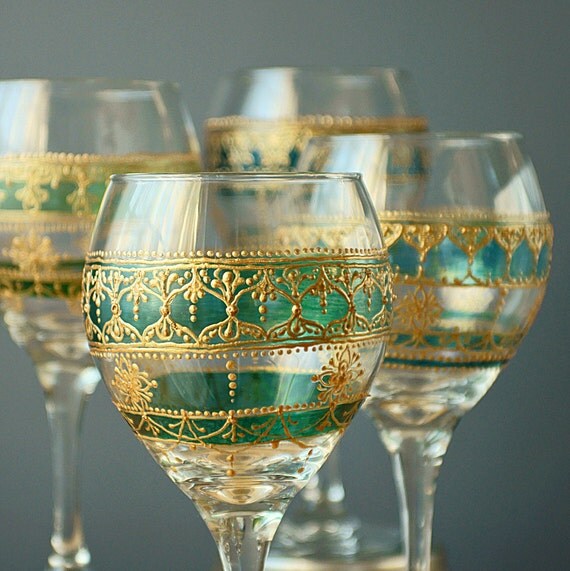 Moroccan Inspired Wine Glasses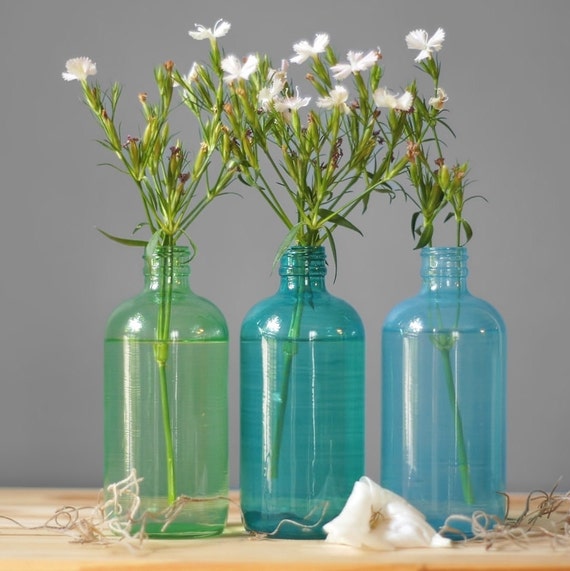 Beach Glass Centerpieces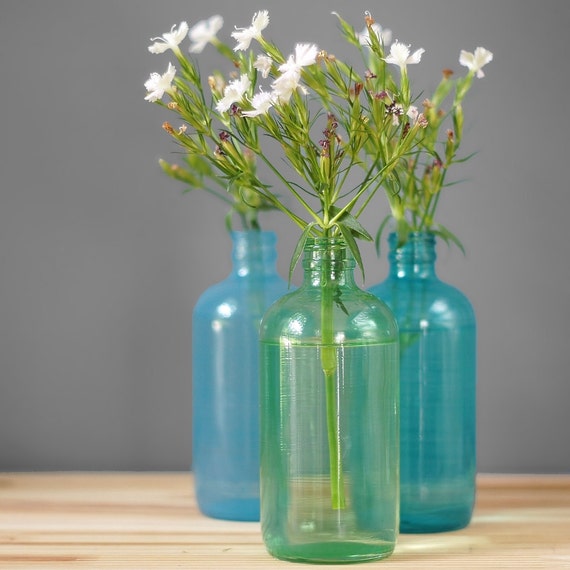 Beach Glass Wedding Centerpieces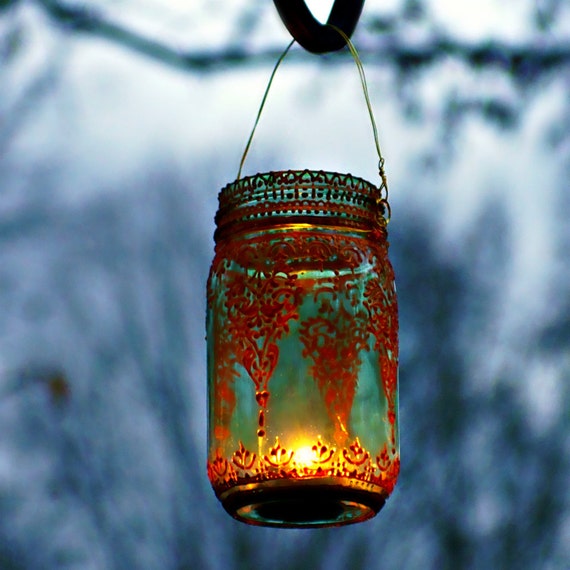 Bohemian Hanging Lantern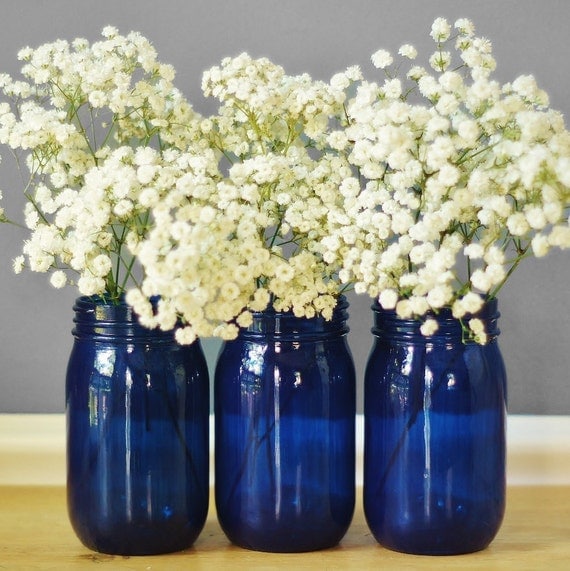 Three Cobalt Blue Mason Jar Vases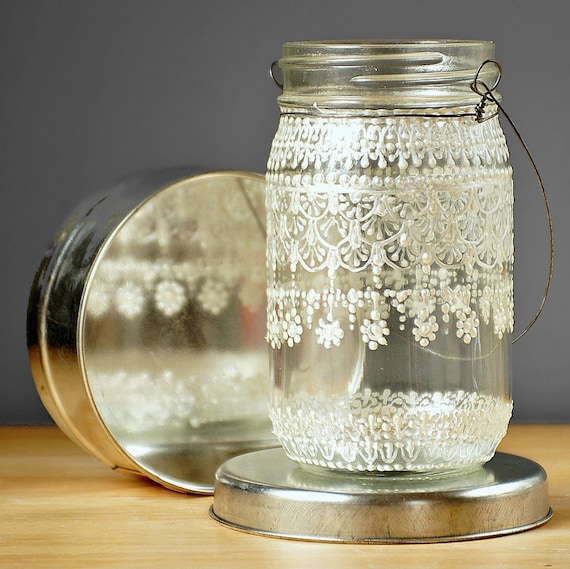 Snowflake Mason Jar Lantern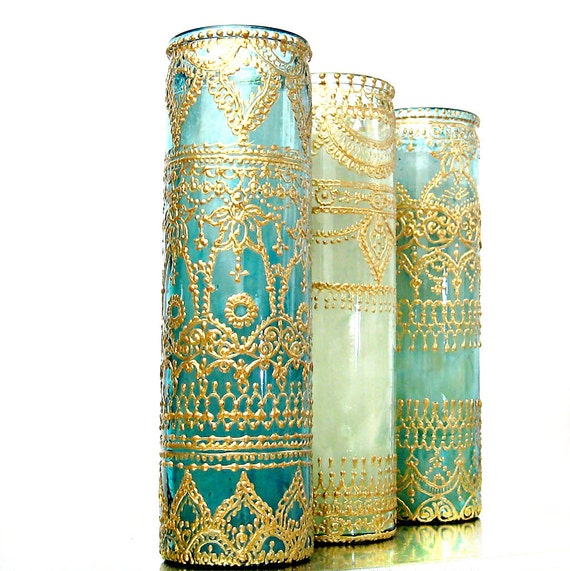 Tall Aromatherapy Container Candle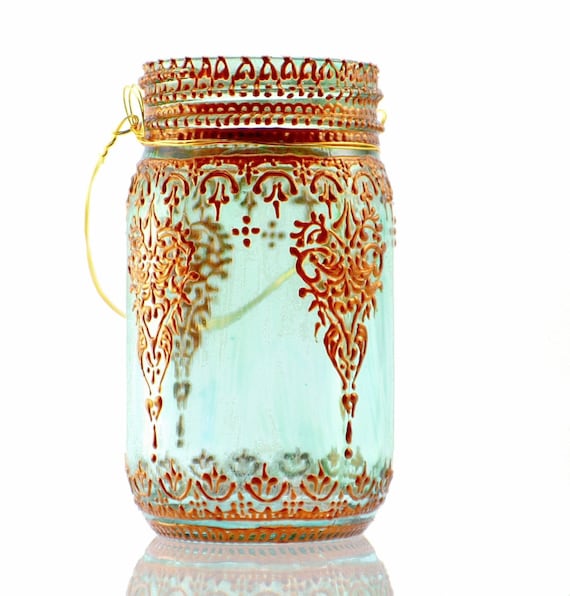 Aqua Mason Jar Lantern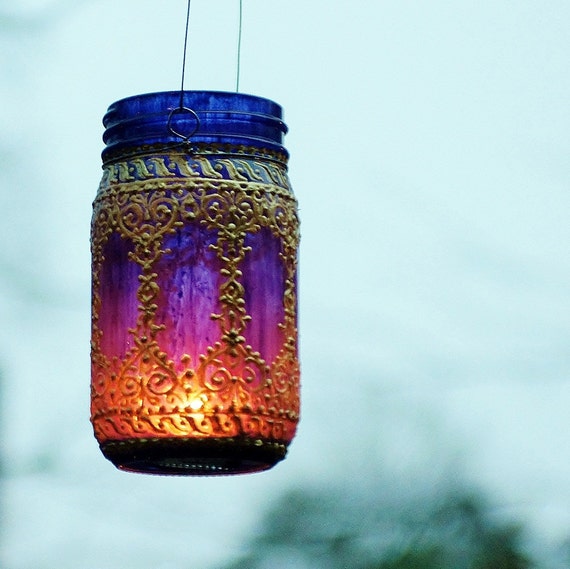 Mason Jar Hanging Lantern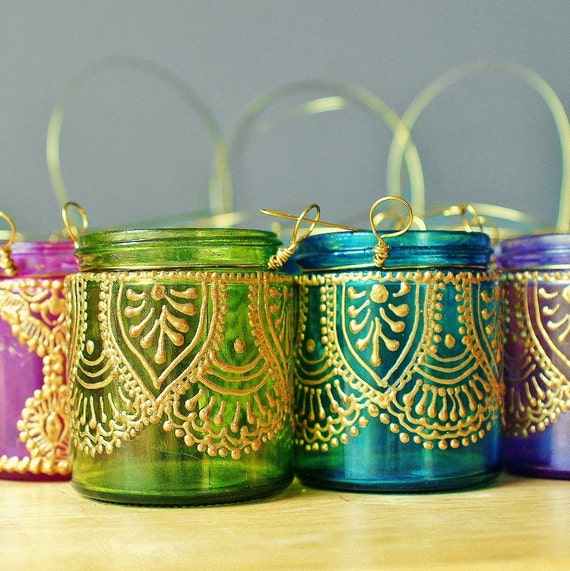 Four Moroccan Lantern Votives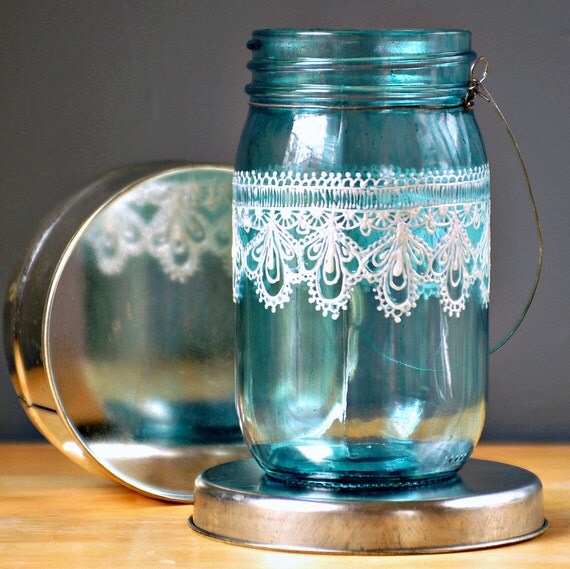 Mason Jar Moroccan Lantern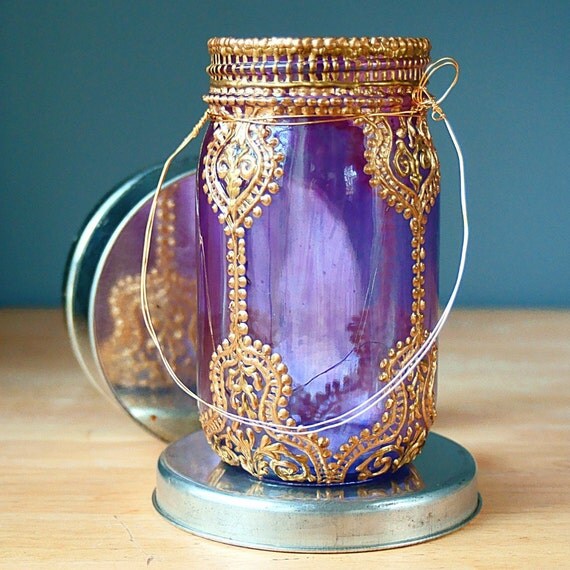 Mason Jar Lantern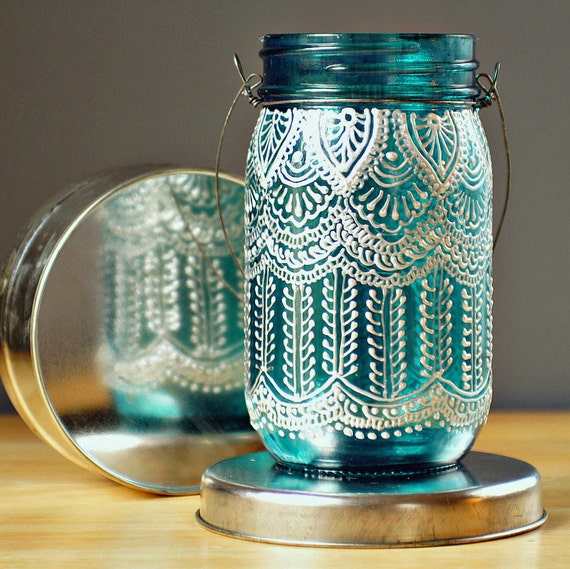 Painted Mason Jar Lantern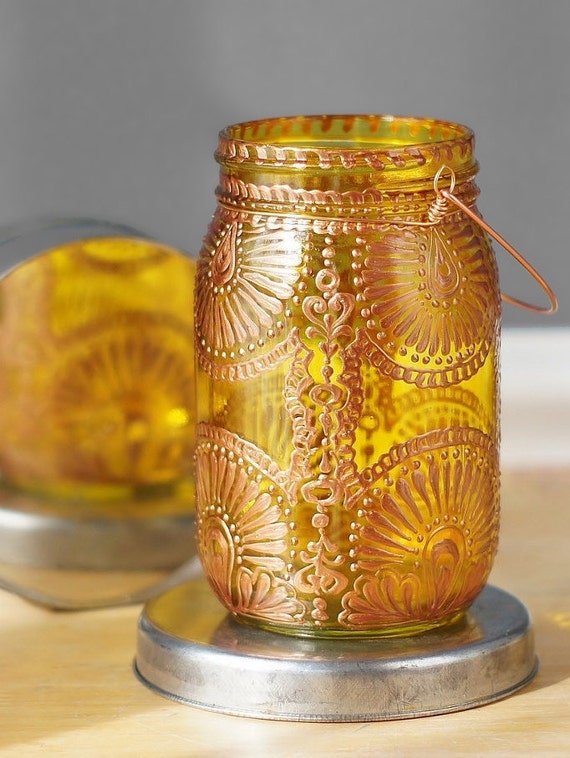 Mason Jar Lantern

Mason Jar Lantern

For more information about the artist, how she works and her process, check the About page on Etsy.
(Visited 1,421 times, 1 visits today)
Wait A Second - Check Out Our Other Pages Before You Go!