Whether you live in Columbus, Ohio or are a current or former student of The Ohio State University, you know that knowing how to have an Ohio State Buckeyes ugly sweater party would be so much fun. Your friends and family can come dressed in one of these scarlet and gray tacky sweaters on this page, or you can get together and make some tacky sweaters before the party.
Certainly everyone you know must have at least one completely tacky outfit from their OSU wardrobe collection. It might be the handmade sweater that Aunt Martha gave you last year for Christmas. Or maybe it is your former boyfriend's sweater that he lent you and you never returned. Getting all of those unsightly garments in one room is a sight for sore eyes (no wait, it will probably cause sore eyes or blind you).
Put together a cool snack buffet and play some games including judging the tackiest outfit of all, and you can spend an evening watching old game highlights and reminiscing about the good old days. Here are some sweaters, party supplies and prizes to get your inspiration flowing.
OSU Buckeyes Ugly Christmas Sweaters
Buckeyes Logo Ugly Christmas Sweater

Ohio State Buckeyes Patches Ugly Sweater

Ohio State Buckeyes Ugly Sweater

Buckeyes Ugly Christmas Sweater Vest

Buckeye Ugly Sweater-Themed Gifts
These gifts are really cute for Christmas or just because. The scarves will keep your neck nice and cozy during those frigid Ohio winters. Or keep your mug warm with a sweater all its own. How cute is that?
Ohio State Christmas Ornament

Ugly Sweater Christmas Mug

Ohio State Buckeyes Reversible Ugly Scarf

Official Ugly Scarf-Ohio State Buckeyes

Tacky Sweater Party Supplies
You will have to provide the Ohio State fight song, but these party supplies will keep your Buckeyes fever going throughout the evening. You can set your table, add napkins, cups and decorations in scarlet and gray for a Brutus Buckeye-filled evening. It is really not possible to have too many of these party supplies for tailgating and watching the games each week. Stock up for your entire season of Buckeyes football and basketball games.
Plastic Table Cover

Buckeyes Luncheon Napkins

36-Piece Party Pack

Peel & Stick Wall Decals

Crepe Paper Streamer

Buckeyes Party Pack

Party & Tailgate Kit

Dessert Paper Plates

Buckeyes Team Party Streamer

Collegiate Latex Balloons

Plastic 20 oz. Cups

Paper Party Plates

Paper Dinner Plates

Buckeyes Neoprene Coasters

Ohio State White Team Logo Cloth

Ohio State Buckeyes Napkins

Dessert Napkins & Plates Party Kit

NCAA Ohio State Buckeyes PVC Football

Ohio State Buckeyes Party Banner

Ohio State Buckeyes Party Pack

Ohio State Inspired Paper Garland

Mylar Balloons, Ohio State

Ohio State Buckeyes Logo Wall Decal

Ohio State Buckeyes Beverage Napkins

Ohio State Buckeyes Party Pack

Long Neck Bottle Opener

Buckeyes Kolder Kaddy Can Holder

Edible Cake Image Topper

Columbus Ohio T-shirts
Columbus the city sometimes gets the short end of the stick when it comes to paraphernalia and t-shirts. Here is a selection of Columbus Ohio tees for men and women to help you support this capital city. The last two shirts from Zazzle can be customized with your own text. Just changed the city and state to Columbus Ohio. Those are also in the ugly sweater theme, and there are more colors available. But still scarlet and gray are the best ones to choose.
Straight Outta Columbus Ohio

Columbus Ohio T-Shirt

Ohio Home Premium Crewneck

Made In Ohio Women's Tee Shirt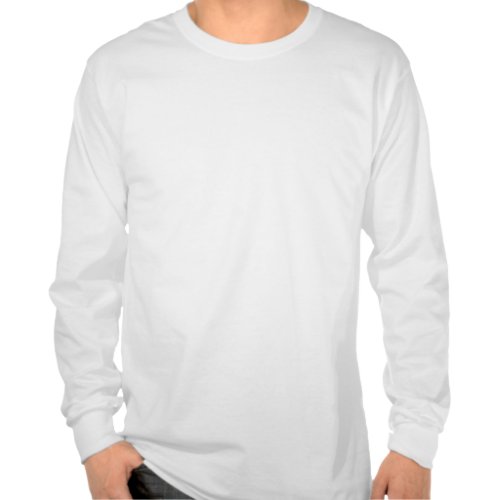 Ugly Christmas Sweater Shirt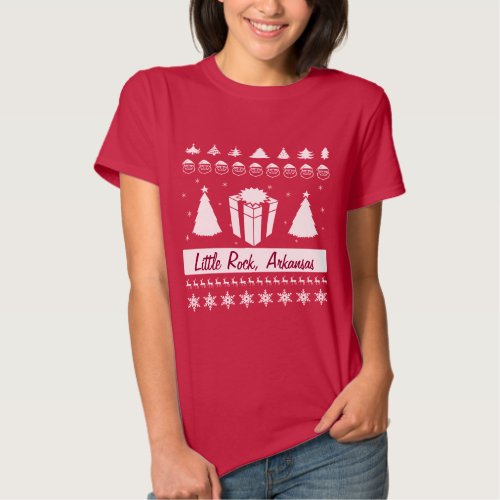 Ugly Christmas Sweater Tee

Prizes for the Ugliest Sweater
After all the party planning and preparation, it is very important to have prizes for the best, worst and best attempt at a Buckeyes tacky sweater. These items below are all OSU logo items at varying price points for you to hand out to guests. Your guests have made the effort to participate, so why not give them one of these Ohio State gifts for coming to your party. The mustache is sorely needed by everyone.
Ohio State Buckeyes

Ballpoint Pen and Key Tag Set

Ohio State Buckeyes Snowglobe

Ohio State Buckeyes

Buckeyes Plush Mustache

Snowflake Mug

Buckeyes Car Seat Covers

Buckeyes Sled Ornament

Buckeyes Cooler Tote Bag

Buckeyes Silver Stripe Tie

Crimson Golf Bag Tag

Buckeyes Premium BBQ Set

How to Have an Ohio State Buckeyes Ugly Sweater Party Invitations
These invitations are all digital files that can be downloaded and customized for your party. You just pay one fee for the design, then print out as many or as few invitations as you need. You can hand them out or save them to your computer and email them to your friends. All of them are designed by independent artists.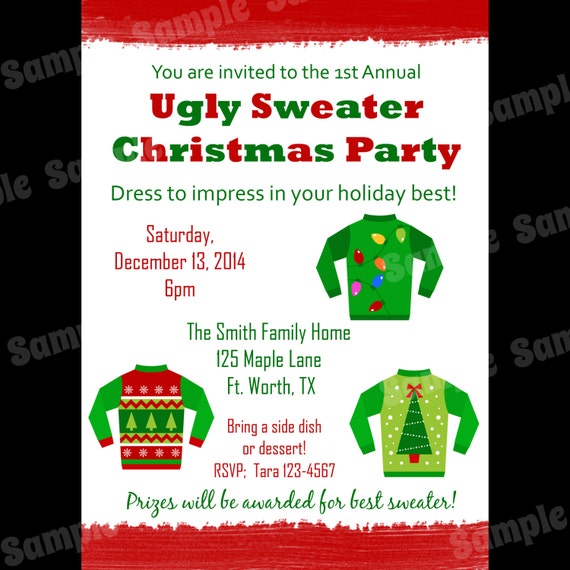 Ugly Sweater Chistmas Party Printable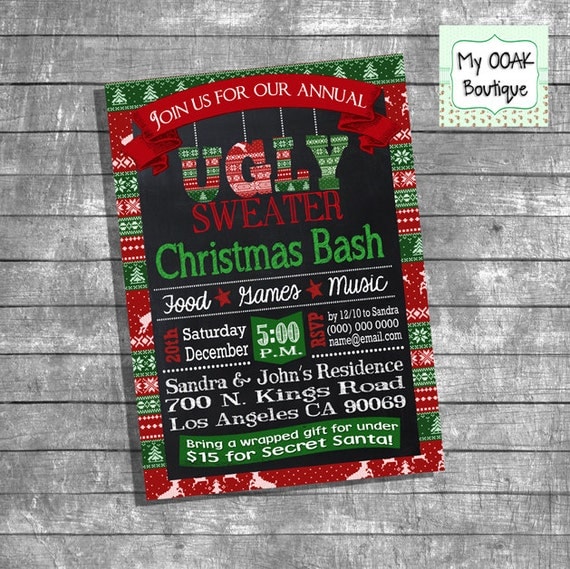 Digital Printable Invitation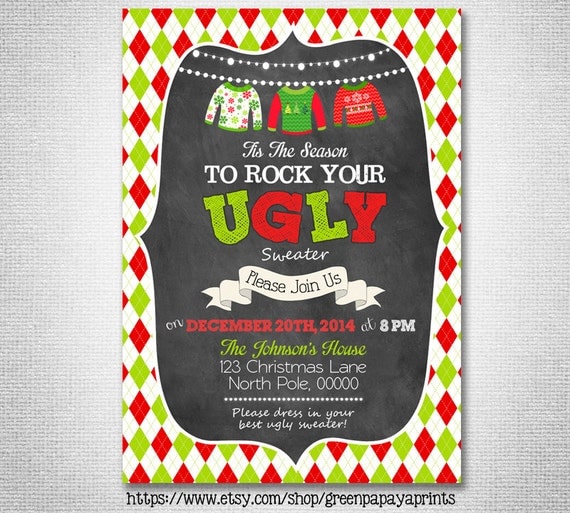 Ugly Sweater Party – Printable Invite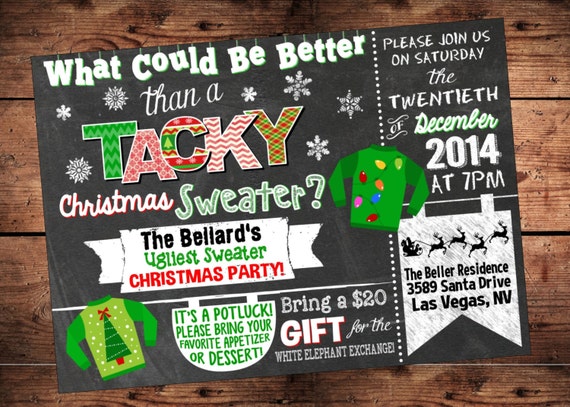 Tacky Christmas Sweater Digital File

Ugly sweater parties are a great excuse to gather during the holiday season for laughter and plain old fun. No pressure or need to dress up in your fanciest clothing. Just some tacky Christmas gear and you are good to go. Give this party the old college try and sit back and drink a beer as you watch the Bucks play.
You can even tailgate an Ohio State ugly sweater party. Just meet everyone outside the stadium in your OSU sweaters. Drink out of Buckeyes cups and eat on Buckeyes plates. Wrap up in your Buckeyes throw blankets if it is cold.
(Visited 562 times, 1 visits today)